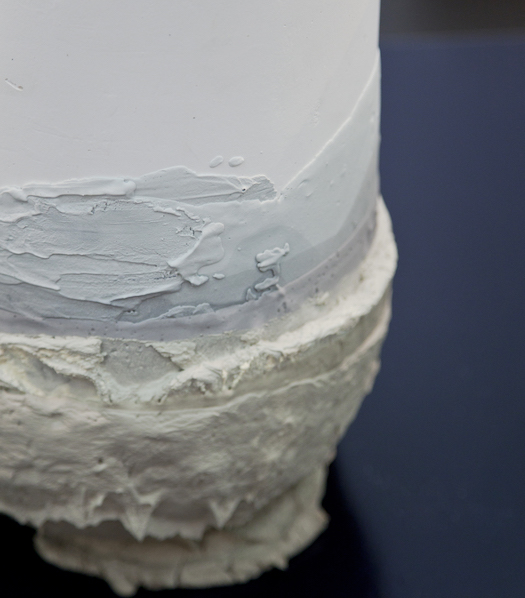 In the process of making these vases, two phases of the same material react upon each other in a biochemical struggle. The primary shape of these vessels, which is based on one mold, is first cast and dried. Afterwards this basic shape is immersed in newly mixed plaster. During the immersion the newly mixed and still liquid plaster clings to basic form. 
Through the combination of control and letting the plaster react freely, the material forms its own unique cover. Here the plaster is not applied as a secondary material, but shown in its autonomous qualities and capabilities.
Via multiple immersions in different mixtures of liquid plaster, the vessel is covered with several unique layers. The inner shape keeps its clean design, whilst the outside becomes rough and irregular.
Phases are part of the design collection of Museum Boijmans van Beuningen, Stedelijk Museum Den Bosch and Museum of Musée d'art contemporain de Montréal.
Material: plaster
Technique: manual rotation molding and immersion
Measurements: ± 30 x 30 x 50 cm
Year: Phases I 2012, Phases II 2013, Phases III 2014, Phases IV 2015, Phases V 2016
Photography: Studio Jeroen Wand
Shop this product
Back to overview